Ancient Turkish Ritual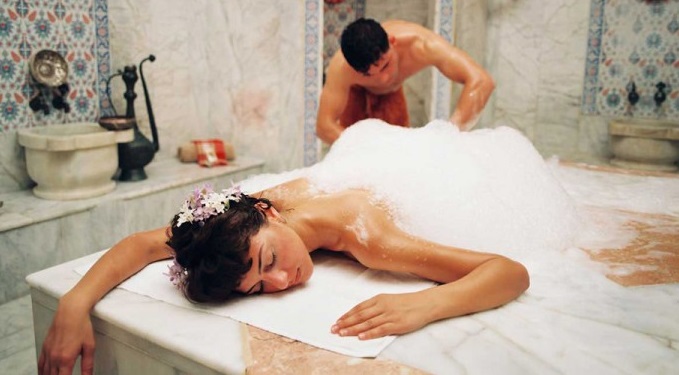 This unique treatment, inspired by ancient Turkish and Moroccan rituals, is a wonderfully unique pleasure!
You'll begin in the dry heated sauna where you'll relax and cleanse while freely perspiring.
Next, you'll lie on a stone table for an exfoliation performed with the traditional exfoliating mitt (Kese) and aromatic Moroccan Black Olive soap.
Then, you'll be slowly enveloped, head to toe, under a growing mound of bubbles from a torba (hammam foam bag)!
A foam massage, using the mound of rosemary and olive bubbles, will leave your skin smooth as silk...
A gentle facial masque...
Then you're treated to an extended and luxurious full body (and facial) aromatic Moroccan Nights massage!
Your massage begins with extensive myofascial stretches to open you up and reduce constrictions and tightness so you'll totally relax during the sensational Moroccan massage.
Exfoliation and hydration of skin
Improved skin texture - satiny smooth!
Relief of muscular tension
Elimination of toxins
A unique and deeply relaxing experience