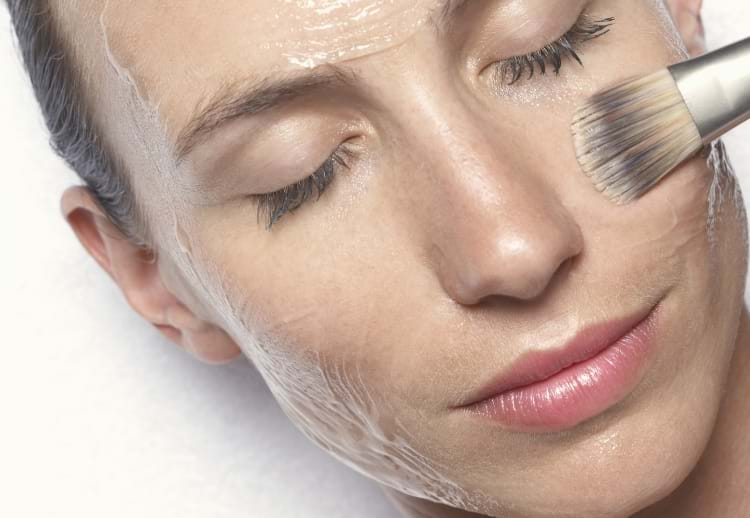 Peels are used to improve skin texture, smooth out skin tone, lighten sun damaged dark patches or hyperpigmentation, and to improve the appearance of fine lines and wrinkles.
Rather than an abrasive exfoliant, various solutions such as chemical or fruit acids are used to soften and peel away the surface of the skin, revealing and allowing healthier, smoother new skin to grow in its place.
Spa Paradiso offers a variety of peels, described below, for different purposes and skin types. They are offered standalone or with a microderm.
The product is brushed onto the skin and remains for several minutes and then neutralized.
Glycolic Acid Peel (aka. lunchtime peel)
The Hydroxyacid (AHA) or Glycolic Acid peel is the gentlest of peels requiring little or no recovery time. It is a popular all-purpose rapid exfoliating treatment. This peel will assist in smoothing fine lines, reducing acne scarring, decreasing blackheads and lightening skin pigment disorders.
Lactic Acid Peel
This mild peel performs like a hydrator by increasing the skin's ability to hold water in the epidermis. A gentle and effective exfoliation for dry and sensitive skin....You will see and feel the difference in your skin.
Salicylic Acid Peel
Salicylic acid is a powerful tool to fight acne and wrinkles. It helps eliminate acne symptoms such as excess dead skin cells, sebum and bacteria. Despite its dramatic results, the salicylic acid peel is mild and non-irritating.
Fusion Peel
The Fusion Peel is a multi-acid, multi-enzyme peeling solution suitable for all skin types and issues. Minimal irritation, almost no downtime, and excellent corrective action. Fusion Peel is a blend of Glycolic, TCA, Salicylic, Resorcinol, Lactic, Papaya, Pumpkin, Pineapple and Vitamin C.
Jessner Peel
Jessner's Solution is a skin peel made with a mixture of Lactic Acid, Salicylic acid and the Phenol derivative Resocinol. The Lactic Acid in the peel accelerates the skin's cell renewal rate which softens the epidermis and stimulates collagen growth. The Salicylic Acid exfoliates deep into the lining of the pores to rid dirt, sebum and debris that can cause blackheads, whiteheads and enlarged pores.
And, Resorcinol breaks down dead, uneven and rough skin due to its anti-septic properties which sterilize bacteria upon contact.
Enzyme Peels
These natural peels dissolve dead skin cells and encourage faster cell turnover by exfoliating gently and are recommended for all skin types, including extremely sensitive skin. One example is the Pumpkin Enzyme Peel to help with blackheads, acne and oily skin.
TCA Peel
TCA Peels exfoliate the skin more rapidly than the other peels but there is moderate downtime as the old skin peels away.